The new compact embroidery machine from TAJIMA, the top manufacturer of embroidery machines that the world's first-class brands have confidence in.
Start your business from the day it arrives!
Start embroidering as soon as your SAI arrives.
SAI is an all-in-one package enabling you to start your business right away. Just follow your intuition to operate the touch panel, and the embroidery setup is all done. All you have to do now is push the start button. And even better, when you connect it to a PC using the Writer software included, you can embroider names in an instant!
The fantastic operability of not only the machine itself, but also the software, have been developed out of Tajima's design sense that has been honed in the real-world of embroidery. So, switching up to more powerful, higher-level machines is smoothly accomplished. Your initial experience will not be wasted, nor will the development of your business be held up.
8 colors cover nearly 90% of your needs
SAI is an embroidery machine that can work with 8 colors of thread. It's like using a color printer. You can make your product anything from colorful to chic by putting together the colors you want to use. In reality, when you are putting logos and names together to embroider, it's rare to need to use all 8 colors. What is important to note is the fact that when 8-color combination is available, more than 90% of your needs can be met. SAI enables you to start your business with peace of mind!
Two types of essential embroidery frames are included in the package as standard: Full-size and small. They support production of everything from towels and T-shirts to small accessories. Optional cap frames are also available.
* According to an in-house survey of about 4000 cases.
Wonderfully bold, yet subtle designs
SAI's distinguishing silhouette was created by Toshiyuki Kita, the designer of the first-generation AQUOS that kicked off the history of LCD TVs. He came up with a color and design which fit effortlessly into various environments. For instance, if you run the machine in a location where it is visible from outside your shop, it gives the shop a sense of movement and inspires interest in passers-by.
What's more, we added little twists here and there, such as arranging the thread cones vertically, to achieve the surprisingly compact form. In city centers, in particular, a shop is a valuable space not an inch of which can be wasted. It is a compact machine designed with consideration for your space as well.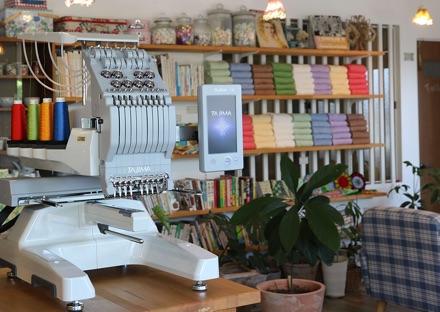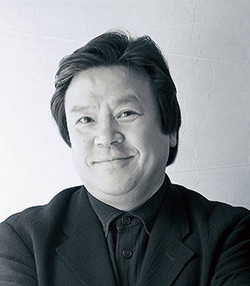 Having been active since 1969 producing designs in both Italy and Japan, Kita has had hits with a huge number of popular pieces of furniture, home appliances, robots, and everyday domestic items produced by Italian, German, and Japanese manufacturers. The first-generation AQUOS, the trailblazer of LCD TVs, was designed by Mr.Kita.
Winner of the 1990 Delta de Oro Award (Gold Prize) in Spain.
Winner of the 2011 ADI International Compasso d'Oro Award in Italy.
International jury member for the 24th ADI International Compasso d'Oro Award in Italy in 2016.
Delicate yet solid ---- mechanism of trust
Tajima has a history of manufacturing embroidery machines for professional use. In developing SAI, we prioritized making sure it had the durability to earn customers' confidence, and making sure it can be used for many years.
The basic mechanism follows the same engineering ideas as Tajima's flagship group of products, which have been successful around the world. For example, we adopted highly durable parts in motors and timing belts so that they endure long periods of use with ease. Besides this, we incorporated functionality that only a specialized manufacturer could, such as a tension indicator, laser marker, anti-dust finishing at the part-level and so on.