THE WORLD'S FIRST . An innovative embroidery machine without manual thread tension adjustment.

  Equipped with an AUTO MODE that automatically detects the thickness of the fabric and realizes the next stage of automatic embroidery.

i-TM realizes thread tension that coincides with the characteristic of each stitich. By controlling the upper thread consumption volume, the digitally controlled motor provides the appropriate tension. As a result, problems such as the under thread coming on the top of the fabric, the fabric becoming wrinkled, etc are solved. and the unevenness of the embroidery finish for every head is prevented
What is it about i-TM that provides optimal tension adjustment
Poor embroidery finish caused by the return twist of the thread

The fabric is easily shrunken by embroidery stitch pulling

Requires thread tension adjustment after thread replacement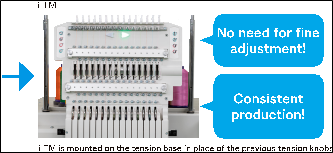 Improved production efficiency
As the appropriate thread tension adjustment is applied regardless of the thread type, mass production can be started quickly
Incorporation of the Digitally Controlled Presser Foot (DCP) for secure fabric stability
The DCP can reduce fabric fluttering that occurs during embroidery.
It is especially effective when working thick fabric, very thin fabric, and folds of material  .
What is "fluttering" ? "Fluttering occurs when the material is lifted up during embroidery which causes skipped stitches, miss-trimming, and reduced quality stitching
The DCP can be adjusted randomly according to the material thickness on the operation panel. It simplifies the mechanical process that was previously required and time consuming.
Various operation switches and multi-color LEDs are located on the each tension base. Since all of the main functions of the operation panel can be manipulated in front of each head, the working efficiency of operators has been improved. Commonly used functions may be assigned to the custom switches
Touch Screen Operation Panel
Wide range of Tubular frame are avaialble to meet all your requirement for embroidery on T-shirts, sweat shirts or other items
Option : Wide Cap Frame 2
The newly-designed Slim Cylinder Bed, which has downsized diamter compare to the conventional cylinders by about 12% , has widened the range of application so as to cover tubular products, such as sleeves and pockets. The wide cap frame also has been newly designed to upgrade the rigidity coinciding with the Slim Cylinder Bed. This frame has enhanced the embroidery stability whereby increasing the rotational speed to 1000 rpm (900 rpm for +4mm).
Model

Needles

Multicolor heads

Embroidery Space (mm)

A (mm)

B(mm)

C(mm)

 

TMEZ-S1501C

15

1

360 x 500

1,205

770

997
Option

: 

Multi Cording Device, Sequin Device IV

Revoution 

: 

Max. 1,200 rpm

Power consumption 

:

160 w

Power Supply 

: 

1-PH 220V 50Hz