Tajima TMBU-SC series is an embroidery machine that supports not only regular embroidery such as caps and shirts, but also large products such as golf bags and travel carry bags. Raising/lowering table to support heavy objects, Digitally Controlled Presser Foot "DCP", and laser crosshair marker that accurately illuminates the embroidery position are standard equipment, and an easy-to-use magnetic frame "M frame" can also be selected as an option.
Features:
Incorporation of the Digitally Controlled Presser Foot (DCP) for secure fabric stability.
The DCP can reduce fabric fluttering that occurs during embroidery
It is especially effective when working thick fabric, very thin fabric, and folds of material.
What is "fluttering" ?  "Fluttering occurs when the material is lifted up during embroidery which causes skipped stitches, miss-trimming, and reduced quality stitching 
The DCP can be adjusted randomly according to the material thickness on the operation panel. It simplifies the mechanical process that was previously required and time consuming.
When executing Trace function to check the position of the product, the laser crosshair marker irradiates the product in a cross shape from directly above, so that the accurate position can be confirmed even for thick material.
Hydraulic step pump for raising/lowering Table
The table can be raised or lowered by stepping to the height of a large product. In addition, it can also be used as a workbench for framing Tubular frames and Cap Frames.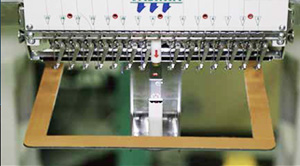 Because the embroidery is sandwiched between magnets, it is an excellent frame that does not leave traces on the product. It is easy to use and you can select the embroidery position on the product.
Advanced settings according to the embroidery
With Digitally Controlled Presser Foot "DCP", the height of the presser foot can be adjusted on the operation panel according to the thickness of the fabric. the height of the presser foot can be set on embroidery design data using Tajima DG by Pulse which is recommended by Tajima. DCP is effective for leather that is difficult to embroider, delicate silk, quilted fabric, and 3D foam.
Incorporation of the FS Mode 
To accommodate loosely twisted or thick thread that has been difficult to use for embroidery, we have designed the FS Mode function to provide stitch stability and improved embroidery quality. When using the FS Mode the RPM is restricted. A decresase in production can be kept to a minimun by setting the FS Mode to individual instead of all needles on the TMAR-KC 
Middle Threads Guide
Easy Threading & exchange
Option frame: Wide Cap Frame 2
The newly-designed Slim Cylinder Bed, which has downsized diamter compare to the conventional cylinders by about 12% , has widened the range of application so as to cover tubular products, such as sleeves and pockets. The wide cap frame also has been newly designed to upgrade the rigidity coinciding with the Slim Cylinder Bed. This frame has enhanced the embroidery stability whereby increasing the rotational speed to 1000 rpm (900 rpm for +4mm).
Option device: Multi Cording Device 2
Device for sewing up to 6 colors of cord material
Various expressions are possible by combining with embroidery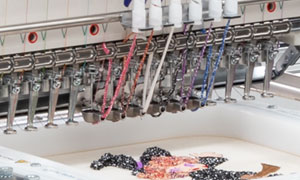 Option frame :Sock Frame (50mm×30mm)
For socks, wristbands
Option frame: M-Frame (90mm×30-256mm)
For pouches, tote bags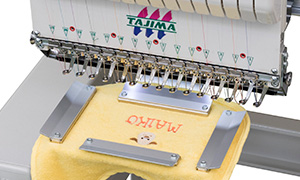 Popular Model 
MODEL

Needles

Multicolor heads

Embroidery Space (mm)

A




(mm)

B




(mm)

C




(mm)

TMBU-S1501C

15

1

360 X 500

870

955

1,675
Option

: 

Multi Cording Device, Sequin Device IV

Revoution

: 

Max. 1,200rpm

Power consumption

: 160w

Power supply

: 

1-PH 220V 50Hz