Tajima TMBP-SC series is the latest cost effective, high performance single head successor. A wide area can be
freely used all around the frame. Smooth installation and removal of large finished products. You can also embroider large enamel bags and thin socks.
Features:
Incorporation of the FS Mode
To accommodate loosely twisted of thick thread that has been difficult to use for embroidery, we have designed the FS Mode function to provide stitch stability and improved embroidery. When using the FS Mode the RPM is restricted. A decresase in production can be kept to a minimun by setting the FS Mode to individual instead of all needles on the TMBP-SC

Middle Threads Guide

Easy Threading & exchange
Option frame: Wide Cap Frame 2
The newly-designed Slim Cylinder Bed, which has downsized diamter compare to the conventional cylinders by about 12%, has widened the range of application so as to cover tubular products, such as sleeves and pockets. The wide cap frame also has been newly designed to upgrade the rigidity coinciding with the Slim Cylinder Bed. This frame has enhanced the embroidery stability whereby increasing  the rotational speed to 100 rpm(900 rpm for + 4mm).
Option device: Multi Cording Device 2
Device for sewing up to 6 colors of cord material 
Various expressions are possible be combining with embroidery
Option frame : Sock Frame (50mm x 30mm)
For socks, wristbands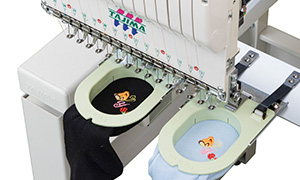 Option frame : Air Type Clamp Frame 2(80mm x 120mm,110mm x 140mm,140mm x 200mm)
For patent leather bags, tote bags
The product can be easily fixed to the hoop. Increase embroidery productivity
Option frame : Air Type Pocket Frame 2(90mm x 30 – 256mm)
For pockets, caps or shoes
Adjust the hoop size (pinch width) according to the size of the product
Option frame : M – Frame(90mm x 30 – 256mm)
For pouches, tote bags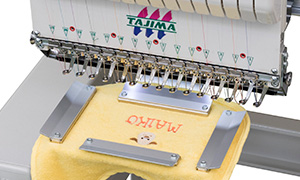 Option frame : X -Extenshion Unit(360mm x 1200mm)
Secure a wider embroidery space by attaching a special frame and table
For large flags, store awing, dresses, sports sweat suits, tablecloths, curtains or furniture
Popular Mode
| | | | | | | |
| --- | --- | --- | --- | --- | --- | --- |
| Model | Needles | Multicolor heads | Embroidery space (mm) | A (mm) | B (mm) | C (mm) |
| TMBP-S1501C | 15 | 1 | 360 X 500 | 1,205 | 770 | 997 |
Option

: 

Sequin Device IV

Revoution

: 

Max. 1,200 rpm

Power consumption

: 160 w

Power Supply 

: 1-PH 220V 50Hz