Lock-stitch chenille Taping & Coiling embroidery machines
Innovative combination embroidery machines to create a greater diversity of variations.
The mixed type series, integrating lock-stitch chenille embroidery heads and standard embroidery heads in pairs! High-performance models in
drastic pursuit of functionality and operability.
Lock-stitch chenille head
High-speed operation at a Max. of 1,000 rpm
Max. 1,000 rpm is available for taping or zigzag swing stitch embroidery,
max. 500 rpm for coiling mbroidery. High speed operation contributes to improvement of productivity.
M-axis free control system to allow adjustment head by head
Bobbins can be moved as necessary by using the Tension base switch.
This facilitates embroidery operations like bobbin exchange or machine adjustment in units of heads.
M-axis start direction control to secure stitching
To prevent stitch start errors, this function stops the bobbin and guide temporarily in the stitching direction after stitching the materials
Zigzag swing assist〈PAT.P〉
Zigzag swing interval is adjustable in the range of 6-16mm on the operation panel for zigzag swing stitches.
This function also gives swing interval to the bobbins to stitch even thick
materials securely, avoiding contact with the needle.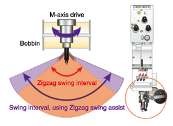 Zigzag swing stitch data automatic generator〈PAT〉 to generate frame movement
This function automatically generates 6 kinds of zigzag swing stitch patterns based on the running stitch data.
They can be selected according to the type of material or embroidery design. (See "Stitch Variations".)
W-Bobbin attachment to develop your design arrangement
To accommodate loosely twisted or thick thread that has been difficult to use for embroidery, we have designed the FS Mode function to
provide stitch stability and improved embroidery quality. When using the FS Mode the RPM is restricted. A decresase in production can be kept
to a minimun by setting the FS Mode to individual instead of all needles on the TMAR-KC
W-Bobbin attachment to develop your design arrangements
2 bobbins are mountable to a lock-stitch chenille head. This enables 2 kinds of embroidery stitches of taping and zigzag swing stitch
embroidery without replacing bobbins, reducing the time for replacement of materials and developing the potentials of your designs.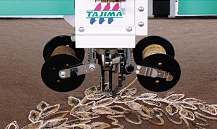 Technologies and functions
A user-friendly color LCD operation panel
An easy-to view color LCD operation panel and special use keys are designed in a compact interface to enable operation by instinct. The job
currently being embroidered on the machine is displayed on the screen inreal time 〈PAT〉.
※6.5 inch color LCD operation panel is mounted to the models with total machine length 4,330mm or less
Design data input or output is available, using USB memory.
Model

Needles

Pairs

Multicolor heads

Lock-stitch




chenille heads

Head interval

Embroidery space (mm)

A (mm)
B (mm)
C (mm)

TLMX-904

9

4

4

4

550

680 x 550 (230)

4.045

1.800

1.540

TLMX-908

9

8

8

8

550

680 x 550 (230)

6.445

1.800

1.630

TLMX-912

9

12

12

12

550

680 x 550 (230)

8.645

1.800

1.730

TLMX-915

9

15

15

15

550

880 x 550 (230)

10.295

2.140

1.730
Option  

: 

Sequin Device III, Sequin Device IV

Revolution 

: 

Max. 1,000 rpm (Standard, Taping & Zigzag embroidery). Max 500 rpm (Coiling embroidery)

Power consumption

: 2.1 kw 

Power Supply 

: 

3-PH 380V 50Hz